10/29/2020
Those free COVID-19 money offers on WhatsApp and Facebook are scams
Have you seen a message on WhatsApp or Facebook offering you free help during the pandemic? People have reported seeing messages that seem to be from Pepsi, Walmart, Whole Foods, Target, and other big-name brands. These messages all offer money to people who need it — through grants, coupons for food support, or other giveaways. But they are all fake, and not from those companies at all.
You might get this kind of message, in English or Spanish, from a friend or contact. The message tells you to click a link to get your money. If you click, you might find a survey to take. Or they might ask you to enter your name, address, phone number, or other information. And they might ask you to forward the message to several friends to be eligible to collect.
But what these message are really doing is running a phishing scam to collect your information (and your friends' info), and possibly putting malware on your phone, tablet, or computer if you click the link. There is no money to get, and no help to be had. Just scammers. It could have been a real (and hopeful) friend who forwarded that message to you – but it could have been a scammer who hacked your friend's account.
So: what do you do if you get one of these messages?
Do not click on any links. That could download malware, expose you to even more scams, or add your phone number to lists sold to still other scammers.
Delete the messages – and certainly do not share them.
Call the friend who shared the message. Did they forward it to you? If not, tell them their account might have been hacked. If so, share this blog post with them.
If you already clicked or shared, run a security scan on your device to look for malware. And then share this blog post with the friends you forwarded the message to – and ask them to do the same.
And then tell the FTC: ftc.gov/complaint.
10/27/2020
Donating in difficult times
Because of COVID-19, unemployment rates are high and many people's cash flows are low. Scammers view these as ripe conditions to strike. They will stop at nothing — not even a pandemic — to trick you into sharing your personal or financial information. That includes pretending to be a government official from the Federal Trade Commission to gain your trust. 
We just heard about an email going around from someone claiming to be from the FTC. This scam email says you will get money from a COVID-19 "Global Empowerment Fund." All you need to do, is respond with your bank account information and they will transfer the funds. But that is a scam. There is no money and there is no fund. And it is not from the FTC. If you get a message like this, do not respond. Instead, report it to the real FTC at ftc.gov/complaint.
The FTC will never contact you by phone, email, text message, or social media to ask for your financial information. (Or your Social Security number.) Anyone who does is a scammer, phishing for your information.
If you're getting an economic stimulus payment, that money will come from the Internal Revenue Service.
If you think you gave your financial information to a scammer, go to IdentityTheft.gov for steps you can take to protect yourself.
To keep up with the latest scams, sign up for the FTC's consumer alerts. 
These days, there are just so many reasons why people want to do to something to help, to make a difference, to act. In addition to volunteering or putting their feet to the pavement, lots of people are putting their hands in their wallets to try to make an impact. Once again, though, scammers will be there. As ever, they follow the headlines and pop up wherever there's money to be made. So, before you donate to support any cause, here are a few things to think about and do:
Do some research. There are many good organizations to support. Search online for recommendations — and, when you have found one that is well thought of, check it out. Type the group or fund's name into a search engine, plus the word "scam, "review," or "complaint."
Consider how you pay. Real charities will not ask you to pay by cash, money transfer, gift card, or Bitcoin. That is how scammers ask you to pay. So, if someone tells you to donate that way, think about donating elsewhere.
Research crowdfunding, too. Many funds that give real help spring up right after a tragedy. But scammers put up crowdfunding pages, too, and it can be hard to tell the difference. You want your money to go to help, so do some online checking to find the real, official funds that support the people or causes you want to support.
If someone rushes you, slow down. Scammers want to get your money as soon as they can. They might start calling, pressuring you to give – or even saying you made a pledge. And, since you cannot trust caller ID, you will not know who is really calling. So, go back to the first bullet: do some research and then give. Just not in response to pressure.
Learn more about other ways to check out charities, and how to give safely, at ftc.gov/charity.
10/22/2020
How to Avoid Losing Money to a Romance Scammer

Here is the bottom line: Never send money or gifts to a sweetheart you have not met in person.
If you suspect a romance scam:
Stop communicating with the person immediately.
Talk to someone you trust and pay attention if your friends or family say they are concerned about your new love interest.
Do a search for the type of job the person has to see if other people have heard similar stories. For example, you could do a search for "oil rig scammer" or "US Army scammer." You can also browse the comments on our blog posts about romance scams to hear other people's stories:
Do a reverse image search of the person's profile picture to see if it's associated with another name or with details that don't match up – those are signs of a scam.
How to Report a Romance Scam
If you paid a romance scammer with a gift card, contact the company that issued the card right away. Tell them you paid a scammer with the gift card and ask if they can refund your money.
If you think it's a scam, report it to the FTC at ftc.gov/complaint. Notify the website or app where you met the scammer, too.
10/20/2020
Romance Scams
Romance Scammers will often say they are living or traveling outside of the United States. We have heard about scammers who say they are:
working on an oil rig

in the military

a doctor with an international organization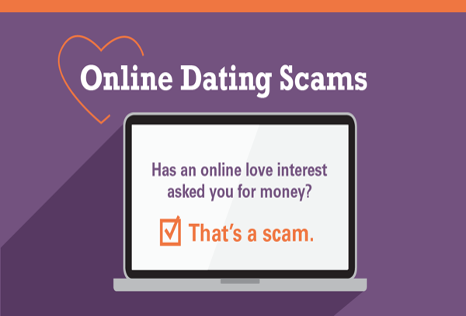 We have heard about romance scammers asking their targets for money to:
pay for a plane ticket or other travel expenses

pay for surgery or other medical expenses

pay customs fees to retrieve something

pay off gambling debts

pay for a visa or other official travel documents


Scammers ask people to pay:
by wiring money

with reload cards like MoneyPak or gift cards from vendors like Amazon, Google Play, iTunes, or Steam
Scammers ask you to pay by wiring money, with reload cards, or with gift cards because they can get cash quickly and remain anonymous. They also know the transactions are almost impossible to reverse.
10/15/2020
Avoiding a cryptocurrency scam
Some high-profile people had their Twitter accounts hacked by scammers who sent out fake tweets asking followers to send money using Bitcoin – a type of cryptocurrency or digital money.
Cryptocurrency scams are now a popular way for scammers to trick people into sending money. And they pop up in many ways. Most crypto scams can appear as emails trying to blackmail someone, online chain referral schemes, or bogus investment and business opportunities. But here's what they all have in common – and what they have in common with yesterday's Twitter hacks: A scammer wants you to send money, or make a payment, with Bitcoin or another type of cryptocurrency. Once you do, your money is gone, and there is generally no way to get it back.
If you see a tweet (or a text, email, or other message on social media) that tells you to pay with Bitcoin, you know that is a scam. Other signs that something is a scam? They might guarantee that you'll make money (those guarantees are false); promise that you'll double your money quickly (again, that's always a fake promise); or say you'll get free money in dollars or cryptocurrency (free money? Nope, not ever). 
If you spot a cryptocurrency scam, report it immediately to the FTC at ftc.gov/complaint.
10/13/2020
MONEY MULE SCAM
Scammers may try to use you to move stolen money. If you help them, you could be what law enforcement calls a "money mule."
Money mule scams happen several ways. The story often involves scams related to online dating, work-at-home jobs, or prizes. Scammers send money to you, sometimes by check, then ask you to send some of it to someone else. They often want you to use gift cards or wire transfers. Of course, they do not tell you the money is stolen, and they are lying about the reason to send it. And there never was a relationship, job, or prize. Only a scam.
What happens next? If you deposit the scammer's check, it may clear but then later turn out to be a fake check. The bank will want you to repay it. If you give the scammer your account information, they may misuse it. You could even get into legal trouble for helping a scammer move stolen money.
How can you avoid money mule scams?
Do not accept a job that asks you to transfer money. They may tell you to send money to a "client" or "supplier." Say no. You may be helping a scammer move stolen money.


Never send money to collect a prize. That is always a scam, and they might be trying to get you to move stolen money.


Do not send money back to an online love interest who sent you money. Also, always a scam — and another a way to get you to move stolen money.
Criminals are good at making up reasons to help them move money. Do not do it. The money may be from other people they scammed. You may be helping criminals hurt people just like you.
If you think you might be involved in a money mule or money transfer scam, stop transferring money. Notify your bank, the wire transfer service, or any gift card companies involved. Then, report it to the FTC at ftc.gov/complaint.


Fraud Prevention Checklist for Members
Keep your information safe and secure.
Never give out account numbers, passwords, or security codes.
Never give anyone access to your computer unless they are a professional.
Look at account statement monthly or sign up for online banking to monitor accounts daily.
Social Security office will not call you asking for your information over the phone or threatening to arrest you for unpaid or past due bills. (hang up and call them directly)
Identity Theft - Contact credit bureaus to place a free fraud alert on account. It makes it harder for someone to open a new account in your name.
Credit Bureaus:                            
Experian.com 1-888-397-3742
TransUnion.com 1-800-680-7289
Equifax.com 1-888-766-0008
10/08/2020
Scams
Right now, scammers are in their dark corners to offer false hope. From trying to get money for a loved one in trouble (Grandparent Scam), you've won a Lottery you didn't enter (Lottery Scam) and they are needing your bank information, to now the Covid 19 scams for tests, help while off work due to the virus, to work from home to earn money, these are all scams.  Scammers are calling (and calling…and calling…), using illegal robocalls to pitch you the latest scam. They are all over social media.
Here are a few ways you can help protect yourself and those you love from scammers.
Do not be rushed. Whatever the call, email, text, or social media post is about, remember that scammers try to rush you. Legit people do not.


Check it out. Before you act on something or share it – stop. Do some research. Do the facts back up the story?


Pass it on. If you get offered something great, or you are worried about something alarming: talk to someone you trust before you act. What do they think?


Keep in touch with the FTC. Sign up for Consumer Alerts to help spot scams: gov/subscribe. And watch for the latest at ftc.gov/coronavirus.


Report scams to the FTC. Go to gov/complaint. Your report can help us shut the scammers down.
Check back throughout the month of October for more Fraud Prevention Information.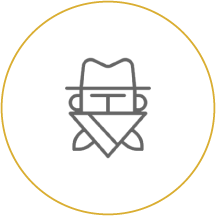 Fraud squad
We've got your back! Always working behind the scenes and providing the latest info to help you protect yourself, too.
Don't be a target!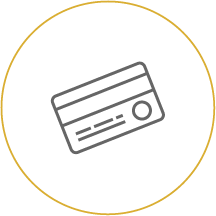 Lost debit/credit card
That's no good, but we've got you!
Call 800-272-6003 Option 1.