low rates, no fees and great benefits with our Platinum Visa 

Tired of paying fees on your credit card? We have a Platinum card that's just what you're looking for!
No balance transfer fee

No cash advance fee
No annual fee
Cash advance at same rate as current rate

Statement grace period of 25 days
Mark your card lost/stolen via Card Controls in our online banking and mobile app
Add travel info via Card Controls in our mobile app
Fraud notifications
Ability to freeze and unfreeze your card
Monitored by a fraud prevention network
24 hours a day, 7 days a week protection
Detect unusual activity outside the normal spending pattern and geographical area
BUILD YOUR CREDIT WITH OUR SECURED VISA
All of the same benefits you love of our Platinum Visa while working towards establishing your credit!
No annual fee
Earn interest on your deposit
Help establish or re-establish your credit
Get approved for a secured credit card when you can't get approved for a traditional credit card


TRAVELING OUT OF THE AREA? 
For better card security, please let us know when you're planning to travel. You can conveniently note your card for travel in the Card Control area in our mobile app. You can also call us at 800-272-6003 and we will be happy to note your account to avoid any inconvenience.
Visa Credit Card Dispute (Unauthorized Transactions)
If you believe there has been an unauthorized transaction against your card, please call our Dispute Specialist:

866-279-1399

Mon - Fri, 8:00 am - 8:00 pm ET

Have the following information ready:
16 Digit Card Number

Transaction Date

Merchant Name

Supporting Documents
Lost or Stolen Cards
AVAILABLE FOR YOUR PEACE OF MIND:
PAYMENT PROTECTION
Life Plus

: 

Cancels 100% of your protected balance up to $100,000 (under age 70) and 25% of your protected balance up to $25,000 (after age 70) should you become deceased before paying off the loan. 

This protects your family from inheriting your debts. Additional protection including: Accidental Dismemberment, Terminal Illness, Hospitalization and Family Medical Leave.

Disability

: Cancels your monthly loan payments for a period of time if you are unable to work due to illness or injury.


Involuntary Unemployment

: Cancels your monthly loan payments for a period of time if you become involuntarily unemployed.


LIFE, DISABILITY, INVOLUNTARY UNEMPLOYMENT CLAIM?
We're here to help. In your time of need, our claims process is quick and easy. Fill out a claim form here:
Added Benefits to Your Loan:
Special Rate Discounts for Payment Protection, Auto Pay, or ACH

No Prepayment Penalties
Card + phone = mobimoney
Want to add more security & control to your debit & credit cards? Of course you do! Get started with
MobiMoney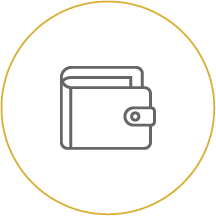 digital wallet
Talk about convenience! Make purchases directly from your mobile device using
Digital Wallet

visa gift cards
Never worry again about finding the right size, color or style! Get the perfect gift every time with
Visa Gift Cards